An English summary
3rd International Stone Symposium - concept
The Stone Symposium is the 3rd in the row with participation of known sculptors. The three main aims of the symposium are: To show the creative process and give the inhabitants of Bramming and neighbourhood the experience of seeing a work of art in its development. To make a park of sculptures of high artistic quality, from Danish field stones. Quality consisting of an idea of form and contents according to the concept Why Kaj Lykke. Furthermore to secure the development of the artists through international cooperation and to give them a cultural introduction in the many artistic experiences of our region.
The budget is € 52.000 (DEK 400.000).
The main subjects of the symposium are:
The material of the symposium are Danish/Nordic field stones to be handled due to a concept of form and contents. We don't want painted stones or conceptual art where the stone is just a necessary evil.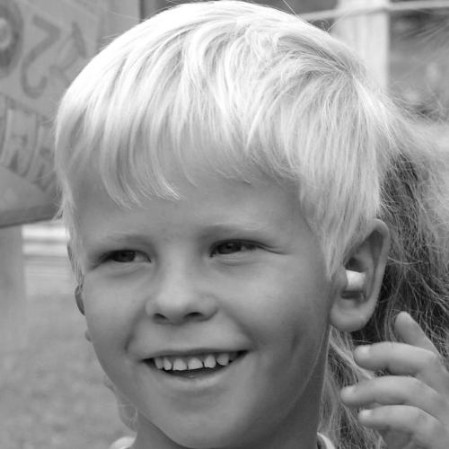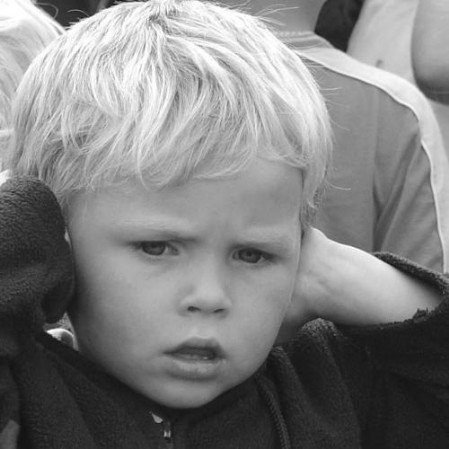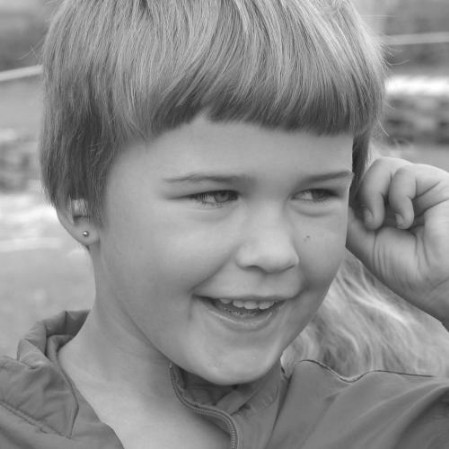 - the young visitors know the art of self-protection
The idea of the symposium is build around the Renaissance person Kaj Lykke. Departing from the dramatic life of Kaj Lykkes it is easy to build a series of themes: Love - deception - richness - refugee - power - death/execution - war - royal power - scull - ghosts - beauty - lover(s). See enclosure below.
On the centrally placed lawn of Bramming Egnsmuseum we will show the public how a sculpture is created. Repeated visits in the area will allow the visitors to follow the development of a sculpture, the creative process and be able to discuss with and contact the artists. We should like very much to make the symposium an artistic event with music, visits of school classes, kindergartens.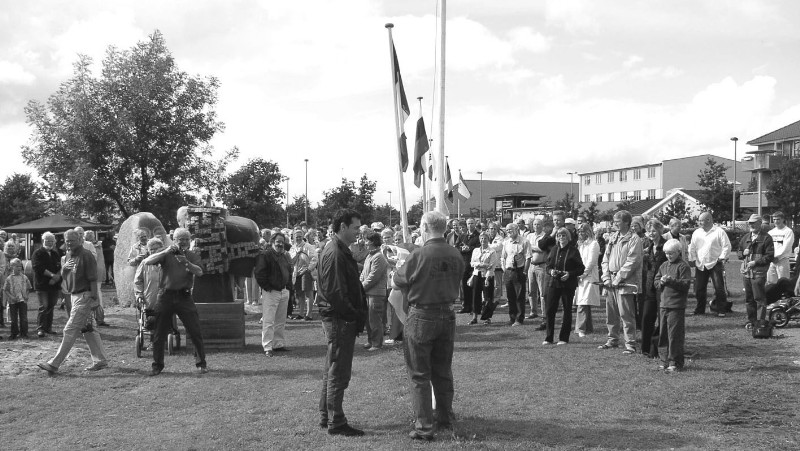 At the closing of the symposium the flags are taken down and presented to the artist
In the end the sculptures will be the foundation of a sculpture park in a scenic area often visited by the people. In due course the works of the first two symposiums were sold and have disappeared from the connection in which they were made. This time we will save in full the symposium. Bramming is going to have a sculpture park. Not grandiose as Tørskind, or monumental as Mennesker ved hav at the entrance of Esbjerg harbour. But a park adapted to Bramming as being a small town in the western part of Jutland. Having considered some possibilities we consider Vibæk being the best place: its connection to nature, its accessibility, its attraction for the whole lot of the municipality's, placed in the idyllic old gravel pit.
We have counted 12.557 visitors at the two first symposiums. The have been discussions with the artists, they have seen the stones change into artistic objects, seen that art is also hard work (a thing to impress you when you are from Western Jutland). The space at the Egnsmuseet is an interimistic exhibition of stones that continuously attracts visitors: They like being there, to sit down, and enjoy life.
We find it important that the artists of the symposium make a mark on the daily life of the town - also when the symposium is ended. It's fine to se the marks at different places in the town. This being a gift the artists have presented to us. And furthermore the symposium has given Bramming a yet unknown rumour: the municipality with the stones. Bramming has become worldly known - just look at the applications from all over the world! This is a kind of image we want to preserve. Responsible for the symposiums were the self-elected the Stone Committee – and Bramming is a town of 13.500 people on the Western coast of Jutland, Denmark.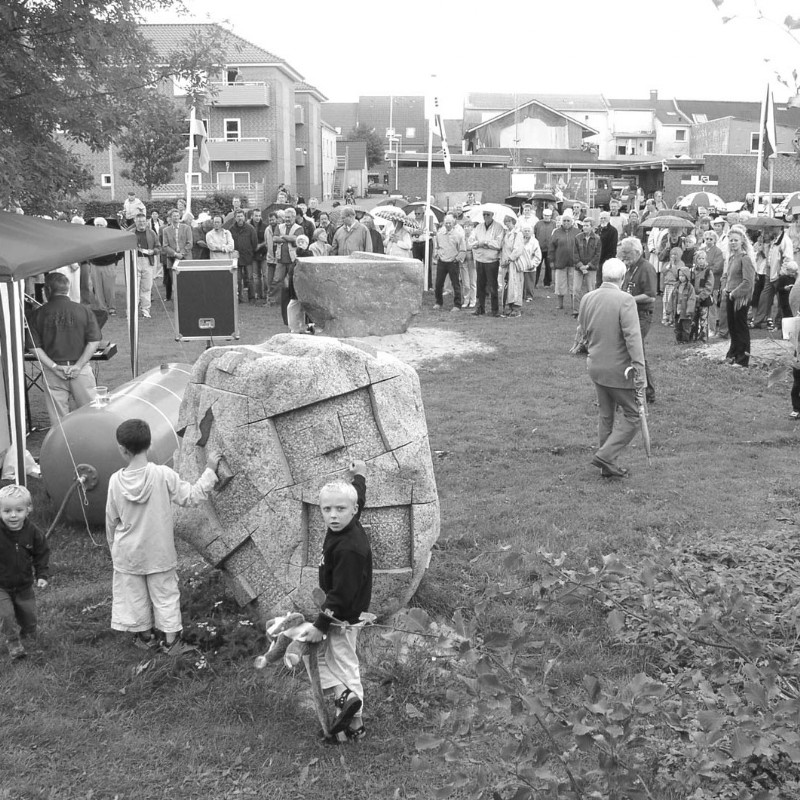 Quite a few attended the ceremony at the vernissage of 3rd International Stone Symposium.
The Stone Committee and curator stress the cooperation among the artists as to create both a personal and an artistic experience, so they come to learn and develop both by themselves and artistically. In order to give the artists some adventures and motivate participation we will arrange excursions on 3 different days to show the artists our region and specially selected places. The symposium pays the artist's travel expenses, accommodation, and meals. Besides we pay the artist a modest compensation around € 2.600 plus a small amount of pocket money. The artists will be working 3 weeks in august 2004: 8th of August to the 28th of August 2004. After the symposium the stones will be put in a sculpture park.
On the 5th of July 1699 the Danish nobleman Kaj Lykke fell of his horse wagon in a sharp curve on the road between two of the manors in the district of Bramming. He broke his neck, and the end had come for a life that had been both strange and tragic. Even though Kaj Lykke only lived two years in Bramming, he had had a strange importance for the city. A civic festival, a golfers club, a road, a train, a hotel, a scout troop, sausages, and cakes were all named after him, and in the area around Bramming, rumours occurred that Kaj Lykke hunted the vicinity of a church and a nearby manor, where he searched for his head at nightfall.
It all started so well. Kaj Lykke was born in the year 1625, and he belonged to one of the wealthiest noble families in Denmark. He had a fine education abroad from Denmark and already in an early age he achieved highly ranked posts: The Kings valet, vassal, and in 1657 he became a colonel in his own regiment in the war against Sweden. But foremost Kaj Lykke was a farmer, and already at the age of 23 he had the responsibility of many of his fathers' estates.
In 1655 he inherited eight estates, and numerous farms spread around the country, and thereby became one of the wealthiest young noble men in Denmark. In the year 1660 Kaj Lykke was married, and the year after he had to fire his bailiff for bungling with the accounts. Later it turned out to be a fateful decision. Five years earlier in a private letter addressed to one of his mistresses, he had told that the queen slept with some of her servants. This mistress was later married to the fired bailiff, and he went to the king with the notorious letter. The king gave Kaj Lykke a huge fine, which he could not pay because the Swedes had plundered all his estates during the war. With the help from his wife and friends, he escaped to Sweden where he lived for 24 years. In all these years he tried to raise the funds, so he could pay the king, but he had to hide because he was still wanted by his enemies.
The king used the escape to demonstrate his autocratic power by manipulating a case in the Supreme Court, where the honour, life, and goods of Kaj Lykke were taken away from him. In the presence of the royal family, the government, and numerous Danes, a doll illustrating Kaj Lykke was executed on the 5th of September 1661. It was a grotesque event!
When the queen died in 1685, Kaj Lykke was allowed by the new king to return to Denmark. Here he lived for several years with his wife on her son-in-laws estate, and when his wife died in 1697 he was allowed to continue living there. Here he lived for additionally two years before the accident that was mentioned before, occurred. He was buried in a crypt below the local church, but when his cranium was stolen a couple of hundred years later, it started a debate throughout Europe about craniums and racial qualities. Kaj Lykke's cranium was very small and he had had a high forehead. Some scientists believed therefore that he had been stupid, but today we know that he was an especially gifted and maybe also a handsome man. And the legend speaks of a man fond of girls…
The theft of the cranium was the thing that triggered the local rumours of him hunting the grounds of the church and a nearby manor in the search for his head.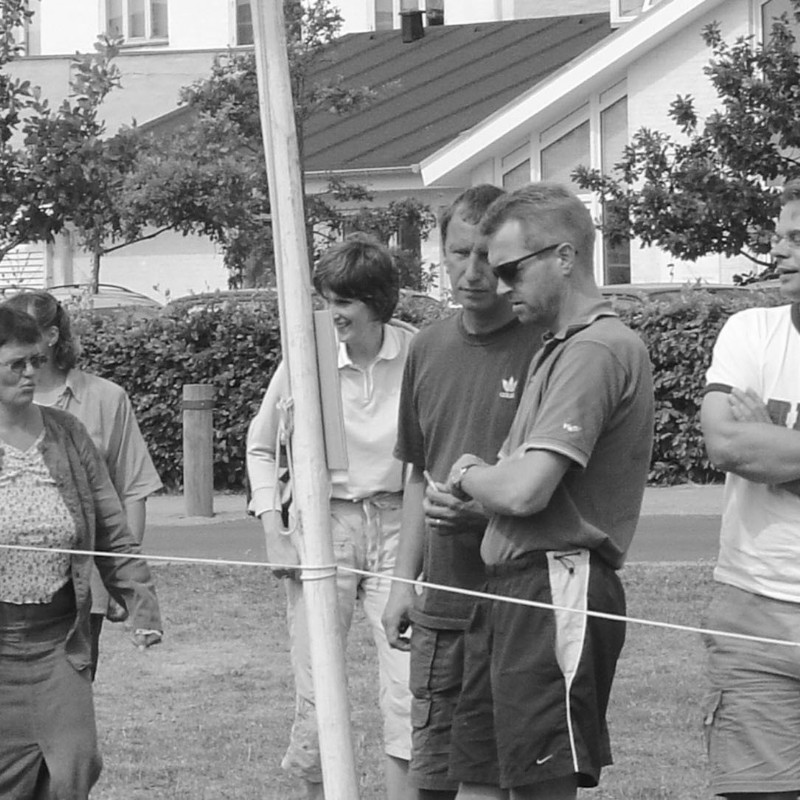 Visitors staying behind the security zone.
Amáncio Gonzáles, Andres - Spain
Andres Amancio (b. 1965) from the Spanish province of Leon had his debut in Madrid by 1991. Amancio also made sculptures in wood which brought him the nickname 'poeta de madera' from the local cultural director, Garcia Rodrígues. He participated in Simposio internacional escultura 2002 + 2003 Fuerteventura...
The German Ulrike Ahme (b. 1955) lives in France where you can find her works in Gallery Trans (Romans at Lyon). In 1987 she graduated from the Academy of Fine Arts in Munich and had her first symposium participation two years later in Arandjelovac/Yugoslavia. Further symposiums brought her to Burkina Faso, Israel, Caldas da Rainha (Portugal) - among many places, last year being Italy, France, and Berlin.
Cpajak Giorgie Cpajak was born in Yugoslavia (1961) and took his MA in fine arts from Belgrade in 1989. 1991-94 courses for Swedish students from KONSTFAK in Pietrasanta at Pisa where he still lives. His symposium career started in 1993 in Pisa, and in the year before last he was in Byblos (Lebanon). As a keen symposionist he saw far away places like China, Taiwan, Japan, South Korea, and Morocco. Worth mentioning is his 10x15 meter marble relief for Pinakotek der Moderne in Munich: Cpajak worked with designers from BMW for 50 days and nights to create a sculpture as 'the art of car design'...
Enghis, Septimiu - Rumania
Born in 1962 Enghis Septimiu lives in Sibiu/Romania where he teaches at the School of Sculpture and Fine Arts. He started off as only 20 years with his first exhibition and then there have been a lot, also outside Romania - when history changed: 1990 Chicago, 1991 Munich, 1996 Trelleborg/Sweden etc. and many symposiums, the last being at Turgu Jiu in memory of the grand Romanian Brancusi (2002).
Fleissig, Nicolae - France
The Nestor among the artists is Nicolae Fleissig, a French sculptor born in Romania 1948. He had his first exposition and symposium way back in 1973 in Romania. His first symposium abroad was ten years later at New Hampshire (USA), and at the same time his career concentrated on France, among other things participation 1987 in MAC 2000 in Grand Palais (Paris), and Galerie Maeght (Barcelona) in 1993. During the last seven years he has concentrated on symposiums, from Belgium to Korea, from Turkey to the Canaries, where in three years he stayed for long periods working, teaching, and studying: about 10 of his sculptures adorn the villages and streets of Puerto de Rosario on Fuerteventura...
One of the two Bulgarian participants is Petre Petrov (b. 1967). He finished his professional education at the National Academy of Fine Arts in Sofia with a BA in 1996. Since 1998 he took part in an endless number of symposiums: Portugal, China, France, Italy, Finland, Burkina Faso, and Turkey - you name it! Most of his exhibitions have been in Bulgaria, and it is worth mentioning his works in other materials as for instance the monumental work 'Whiffle of the wind' made of metal and bronze (Tulle, France, 2002
Seung Hwang, Nam - South Korea
Seung Hwang, Woo - among Europeans called Wang was born in 1960 in Pusan/South Korea, and graduated from National Art Academy in Carrara, Italy in 1999. Since 1997 his usual place for personal exhibitions has been the Belgian Art Forum Gallery. By the end of the 90ies Wang have been a keen participant in various symposiums in Italy as well as an invited guest to exhibitions, as Marino Marini Museum (1998) in Florence
Sultov, Radoslav - Bulgaria
Our 2nd Bulgarian is Radoslav Sultov who is going to celebrate his 28th birthday during the symposium (16.8.) and is the youngest of the team. After his MA in fine arts at the National Academy of Sofia in 2000 he proceeded to the University of Castile in Cuenca/Spain. His only symposium experience was in Alvor Portugal in 2003. Sultov also participated in various multimedia workshops and has made installations art.
Antanavicius, Vytenis – Lithuania
Vytenis Antanavicius was born in Vilnius, the capital of Lithuania in 1963. He graduated from the Vilnius Academy of Arts in 1991, staying on there to teach. Over the next six years he featured in 11 wood symposiums, four of these in France. In 1997 he took part in the 14th international stone symposium, held in Fanano, Italy, and in others in Kap Arkona in Rügen, Germany and Chatre, France (1998)
The Norwegian artist Liv Due lives in Stockholm, Sweden. She began her studies at the Academy of Arts in Oslo, Norway in 1978. She took part in the stone symposium held in Larvik, Norway in 1994 and later attended others in Kankaanpää, Finland in both 1997 and 1998. Due has travelled widely in Europe, the USA and Africa. In 1989 she took part in Robert Whitman's performance piece Fast clou
Feldbergs, Ojars Arvids – Latvia
Latvian artist Ojars Arvids Feldbergs was born in 1947 and trained at the Latvian Academy of Art from 1970-76. He has won worldwide recognition through his participation in symposiums in Santiago de Chile (1998), the Henry Moore Competition in Utsukushi-ga-Hara, Japan and other symposiums in France, Germany, Austria, Spain, the United Kingdom, South Korea and Canada as well as in the former SNG countries. An essay by Feldbergs, translated from the French, in included in this brochure. Feldbergs made two stones, we only her show the main stone
Horstmeier, Hella – Germany
German artist Hella Horstmeier was born in 1941 and lives in Berlin. Horstmeier spent time working at the Dunkelberg sculpture park near Veale in Denmark in both 1991 and 1994. She took part in the Natur-Kunstzeichen symposium in Gross Neuendorf, Germany in 1997 and, the following year, attended the Moto Perpetuo at Pescocostanzo in Abruzzo in Italy. Her first one-woman show, in 1983, at Gallerie Kunstlicht has been followed by several more staged in her native city.
The Spanish artist, Miguel Isla, was born in 1953 and studied art in Valladolid. Prior to Bramming, he has taken part in a number of other symposiums, including several in France - Caen (1991), Chatres (1996, 1998) and Thevet (1998). Works by Isla can be seen in the EU Court of Justice in Luxembourg and in three locations in France: the Musée d'Usson, Forez; Gallery Ovadia, Nancy and Soleymieux - this last being an installation. Isla is curator of the 3rd symposium.
Puhakka, Maarit – Finland
Maarit Puhakka from Finland (born 1953), worked as a biologist for 10 years, before entering art school in Kankaanpää in 1994. She took part in symposiums in Kankaanpää in both 1995 and 1997 and several works by Puhakka are on permanent exhibition in the town. She has also taken part in symposiums in Tallinn, in North Carolina, USA, and Iiyama (Bagano, Japan 1998), where she and two Finnish colleagues won a gold medal for their snow sculpture.
The symposium's grand old man, Lev Smorgon, was born in Leningrad - now St. Petersburg - in Russia, in 1929. He graduated from the V. Mukhina Art School, and from 1957 onwards exhibited regularly in his native city. In 1996, he staged a one-man exhibition at the Museum of Hamatova and later at the Pushkin Museum. In 1998 his Manege was featured in an exhibition at the Central Exhibition Hall. Works by Smorgon can be seen at Oslo University and feature in private collections throughout the world. Lev Smorgon still lives in St. Petersburg. We have added to this book his famous autobiographical sketch: Lev Smorgon's tall story about times gone by: Malakin and Stalin
Tõnu Smidt was born in Tartu, Estonia in 1950, and did not take up sculpture until 1995, after 13 years as conservator at the local museum. Between 1996 and 1998 he took part in five stone symposiums in his home country - at Paide and Tallinn. His international breakthrough came at a wood symposium in Schönfeld, Germany in 1994, the year in which he also exhibited in Berlin, at the Sofien Edition Gallerie.
Igor Dobicins (b. 1958), Sigulda, Latvia. Work of Art: Sail
Gunn Harbitz (b. 1958), Norway. Work of Art: Danish delight
Ian Newbery (b. 1960), Hovmanstorp, Sweden. Work of Art: Road sign
Pauls Jaunzems (b. 1951), Riga, Latvia. Work of Art: Wood Tick
Olli Salo (b. 1967), Helsinki, Finland. Work of Art: Once upon a time
Ole Sjøvold, Odense, Denmark. Work of Art: Stretched Concave with focus
Snaras, Antanas - Lithuania
Antanas Snaras (b. 1959), Vilnius, Lithuania. Work of Art: XXX
Lev Smorgon's tall story about times gone by
It so happens, that some times there is a bad day, everything seems black. It would be good if God sent someone to speak to. And God did. Boris Evseevich Kaplyansky comes walking towards me. I stop him and start to complain about life, about the juries - they are like beasts, about Lenin who is pleasant like ice under one's collar and so forth. Boris Evseevich stopped my steaming words and sad to me with a smile: And do you know, what happened one day with Abram Malakin? When you know it, may be easier for you. He then gave out this parable: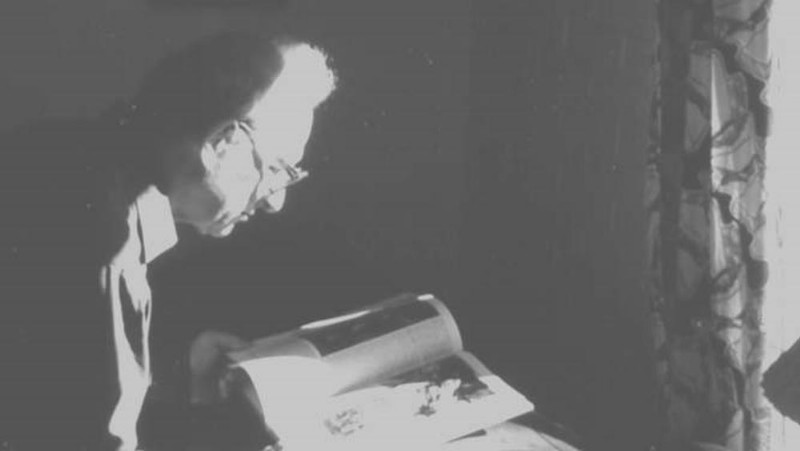 Smorgon studies the past…
The war was over, but difficulties continued. Life for everybody was hard, but it was even hard for artists. No money - no commissions. Only monuments of Stalin were erected from time to time. It becomes clear that there was not a monument of Stalin in one of the districts of Moscow. How can it be? One might think that this district didn't love comrade Stalin, didn't respect, didn't value and so forth him.
The Central Committee of the Party resolved to make a monument of our chief in that district. The Union of Artists had to choose the author of the future monument. Candidates were measured and weighed in all directions, and at last Abram Malakin was appointed. Malakin's pleasure was mixed with fear, lest something might not be right. What will happen then?
And feeling his responsibility he started working with great care. Day and night one heard the clap of clay and saw the lights in the studio. He rebuilt, rearranged and remoulded the figure many times. It was the image of the chief already clearly distinguishable, already not just clay on the stand, but our father and teacher. However Malakin was not yet satisfied so he started all over again. One day he notices that the figure was not completely right.
Something was confusing to him. Perhaps the assurance, perhaps the strength, perhaps the confidence, but something was lacking. So he began to try to correct it. Abram tore at the clay in the region of the pelvis. Re moved it back and forth. Poor Malakin became quite mixed up. And Iosiph Vissarionovich already stood shinning in his generalissimo's uniform, his face solemn. Abram decided to take a harder way. Re armed himself with a big stick on the end of which was a metal loop. But he did not disturb the high boots, the cap or the shoulder straps. Re reached the pelvis and began to place it in a proper position. But the figure was large and to find the right position was difficult. Everyone knows that the pubis is the centre of the figure. First Malakin determined the centre and then inserted a small stick. He was a serious sculptor and did everything honestly and correctly.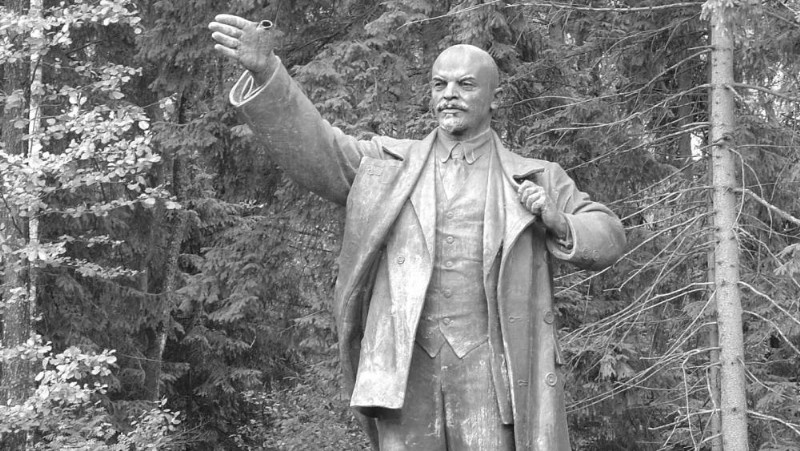 Lenin statue in Gruto Parkas in Lithuania 2004.
At this time the Central Committee decided to check how the work on the monument to our chief and teacher was progressing. They created a special commission which went to Malakin, naturally, without an invitation. Our party and government do not possess politeness or decorum. Abram, at that moment, wanted to see least of all the commission from the central committee, but no one asked him.
The high-ranking comrades arrived. The bell rang. Malakin was covered with clay from head to toe. He opened the door. Two men from KGB easily push him to the wall. The passage was clear. The commission haughtily and slowly flowed into the studio. And what a wonderful, shocking vision arose before their party eyes. The great genius of all ages and peoples with a face expressing at the same time courage and wisdom, his eagle's eyes fixed on the far horizon, maybe he already had the vision of the beautiful contour of communism. On his head was a magnificent cap with a victorious visor. The generalissimo's shoulder straps squared his powerful shoulders. The legs stepped in the high army boots. Beside that, the rest of the figure was the absolutely nude body of an aged man. But the most insulting feature was that in the most intimate place a stick, not big, not normal but small.
There was silence. The axe hung in the air. Suddenly all the members of the commission turned and ran out of the studio at once creating a jam in the doorway. Only the two men from KGB remained, they came to Malakin and...
He found himself in prison.
The Union of Artists, the Academy of Art, the Ministry of culture fussed like ants. They insisted that nobody had evil intentions, that it was not capitalist intrigue, that technology is technology, that no one shows a half finished work to anyone and so on and forth. But all the time they heard that the honour of the chief is the honour of the party. The axe had hung not only over Malakin.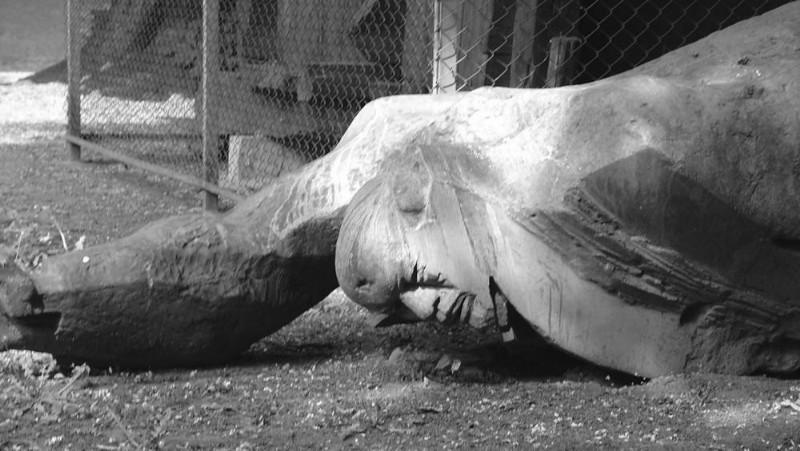 Lenin statue in the park behind the Museum of Art in Sofia Bulgaria 2004.
All understood it very well. They addressed to Vladimir Alexandrovich Serov. Serov was a friend of Climent Efremovich Voroshilov. Voroshilov filled his lungs with air and told all to Iosiph Vissarionovich Stalin. Iosiph Vissarionovich took his pipe from his mouth and began to make some sounds like cough. Climent Efremovich was pale and waited. Then he carefully began to smile, he understood Iosiph Vissarionovich was smiling. Then they laughed together for a long time. Everything went well. Nobody suffered further. Abram stayed in prison only 3 months and he even received money for his work.
The monument was standing until the 60's. Then it was destroyed. After this story of Boris Evseevich Kaplyansky I indeed felt better. 22.V.04